Get Involved
Big B.A.D. Birdhouse Project
Help build & design our beautiful bird-friendly community!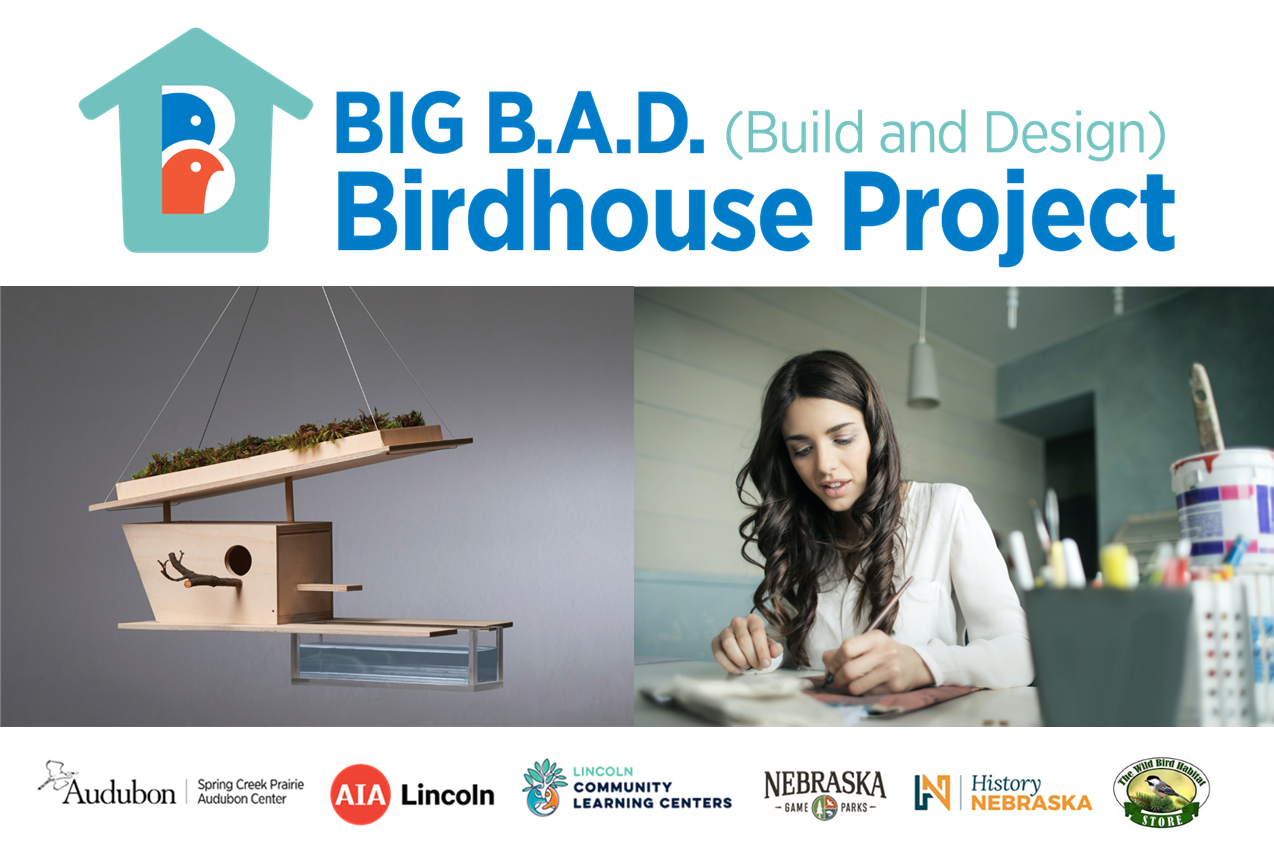 The Big B.A.D. Birdhouse Project is back and better than ever for 2023!
Spring Creek Prairie Audubon Center and the American Institute of Architects-Lincoln are collaborating with community partners for the second year of the Big B.A.D. (Build and Design) Birdhouse Project. Project partners are Lincoln Community Learning Centers, Nebraska Game & Parks Commission, Wild Bird Habitat Store, History Nebraska, and Art Bus Lincoln. Special thanks to sponsor Songbird Essentials.
Project Goals
Increase community outreach around architecture and design.
Increase bird habitat around the city of Lincoln by building and installing birdhouses.
Provide youth, families, and all audiences the opportunity to share artistic and design skills in an interactive, multi-generational community project.
Help build & design a bird-friendly & beautiful Lincoln!
This year's project will have two parts: a JURIED COMPETITION and COMMUNITY BUILDS.
First, we invite families to build and design their own birdhouses at our COMMUNITY BUILD events in January and February of 2023.
New this year, adult artists and architects are encouraged to enter birdhouse designs in a special JURIED COMPETITION. Selected designs will be built (artists provided a stipend for materials) and auctioned off at our fundraising event at the Nebraska History Museum on Friday, March 24, of which artists will receive 1/3 of the sale price from their birdhouse. All proceeds will support STEAM education programming for the Lincoln Community Learning Centers.
JURIED COMPETITION
Calling all Architects, Artists, and Designers. The Big B.A.D. Birdhouse Project would like you to submit a design for our JURIED COMPETITION portion of the project to help us spread the word about architecture and design, raise funds for the Lincoln Community Learning Centers, and make Lincoln a more beautiful and bird-friendly city. Artists whose pieces are chosen will receive a $250 stipend for materials/fabrication as well as a commission of 1/3 of the sale price from auction proceeds at the fundraising event on March 24.
The JURIED COMPETITION portion of the project is open to professional artists, architects and designers; amateur artists & designers; and current college students of architecture, design, and the arts. Entrants must be 19 years of age or older.
Designers may submit 1-3 two-dimensional, 11"x17" visual elements (image file, PDF, photo of 3-D model, or paper) of a birdhouse to the Big B.A.D. Birdhouse Project jury by Friday, January 27.
Juried artists will have until Sunday, March 5 to build/fabricate their full designs and turn them in to the Big BAD Birdhouse Project committee. Juried birdhouse pieces will then go on display around Lincoln and online for public viewing to build excitement for the fundraising event on Friday, March 24, at the Nebraska History Museum. Pieces will remain on view from March 6 to March 22.
Please contact Jason "the BIRDNERD" St. Sauver if you have questions about submitting a design or if you or your group would like to host or be part of a community build.
Birdhouses may be designed as indoor art pieces only or as functional outdoor birdhouses. Please list on the entry form if the piece is OUTDOOR or INDOOR.
Designers may submit as individuals or in teams up to, but no more than, three people. Designers/Teams are allowed to submit more than one entry, but each design entry must be received with its own Artist Application Form & Agreement, concept, and visual elements. If each is chosen by the jury, designer/team will need to be able to build/fabricate each by the build deadline.
Teams are allowed, and each design will be seen by the jury without artist names. If a team piece is chosen by the jury, the stipend will be split by the team.
Special consideration will be given to strong designs that incorporate repurposed, found, or recycled materials in creative and sustainable ways.
We encourage birdhouse designs to be for specific bird species. Please check the following document for the correct size of entry hole and house, especially if the design is for a functional OUTDOOR house. BIRDHOUSE SIZE CHART
The Big B.A.D. Birdhouse Project jury will announce the selected designs and send out stipends by the end of January.
CONSIDERATIONS
Birdhouses will be evaluated on the strength, creativity, and originality of the overall design. The jury comprises experts from the art world, bird/conservation world, and architecture/design community.
Some things to consider:
Functionality of the birdhouse as a nesting spot for birds (unless submitted as indoor/art only), including the appropriateness of the design and materials, ability to withstand weather year-round, ability to be opened and cleaned, size of birdhouse, size/location of entry hole, and ability for it to be installed (hung, on post, on pole, etc.).
Unique and original design and/or decoration.
Use of recycled/reclaimed/reused materials.
Transportation of birdhouses
The Project committee will work with selected artists to have their finished pieces delivered/picked-up for public display and the fundraising auction. Selected artists are invited to the fundraising event to speak with the public about their pieces.
COMMUNITY BUILDS
During the months of January and February, the Big B.A.D. Birdhouse Project will host COMMUNITY BUILDS around Lincoln. Several will be specifically for youth and families at Lincoln Community Learning Centers in northeast Lincoln. There will also be 3-5 other public COMMUNITY BUILDS across Lincoln in locations TBD. These events will focus on learning about birds, bird habitat, and design from experts from partner organizations like Spring Creek Prairie Audubon Center, AIA-Lincoln, and Nebraska Game & Parks Commission.
For all COMMUNITY BUILDS, birdhouse kits, tools, and art supplies will be provided.
Here is a short video taken at a building workshop last year at Prescott Elementary in Lincoln:
How you can help, right now
Keep in Touch
Here's how you can keep in touch with all the activities and programs at Spring Creek Prairie Audubon Center