Spring Creek Prairie encompasses 1,160 acres, most of which is in native tallgrass prairie. Over four miles of trails wind over hillsides, around ponds, and next to a woodland stream for visitors of all ages to enjoy. There are wonderful views of the surrounding countryside from atop the hilltop trails. Nature abounds: lots of birds and other wildlife, wildflowers, grasses, trees, and wetland plants. The visitor center has interactive exhibits, bathrooms, a gift shop, and staff and volunteers to answer questions. No food or water is sold on site, and there is an outdoor bathroom by the parking lot. Note: The new 310-acre parcel that was added to the Center property in September is not open to the public. We are asking the public not to enter the site. We look forward to opening it next spring.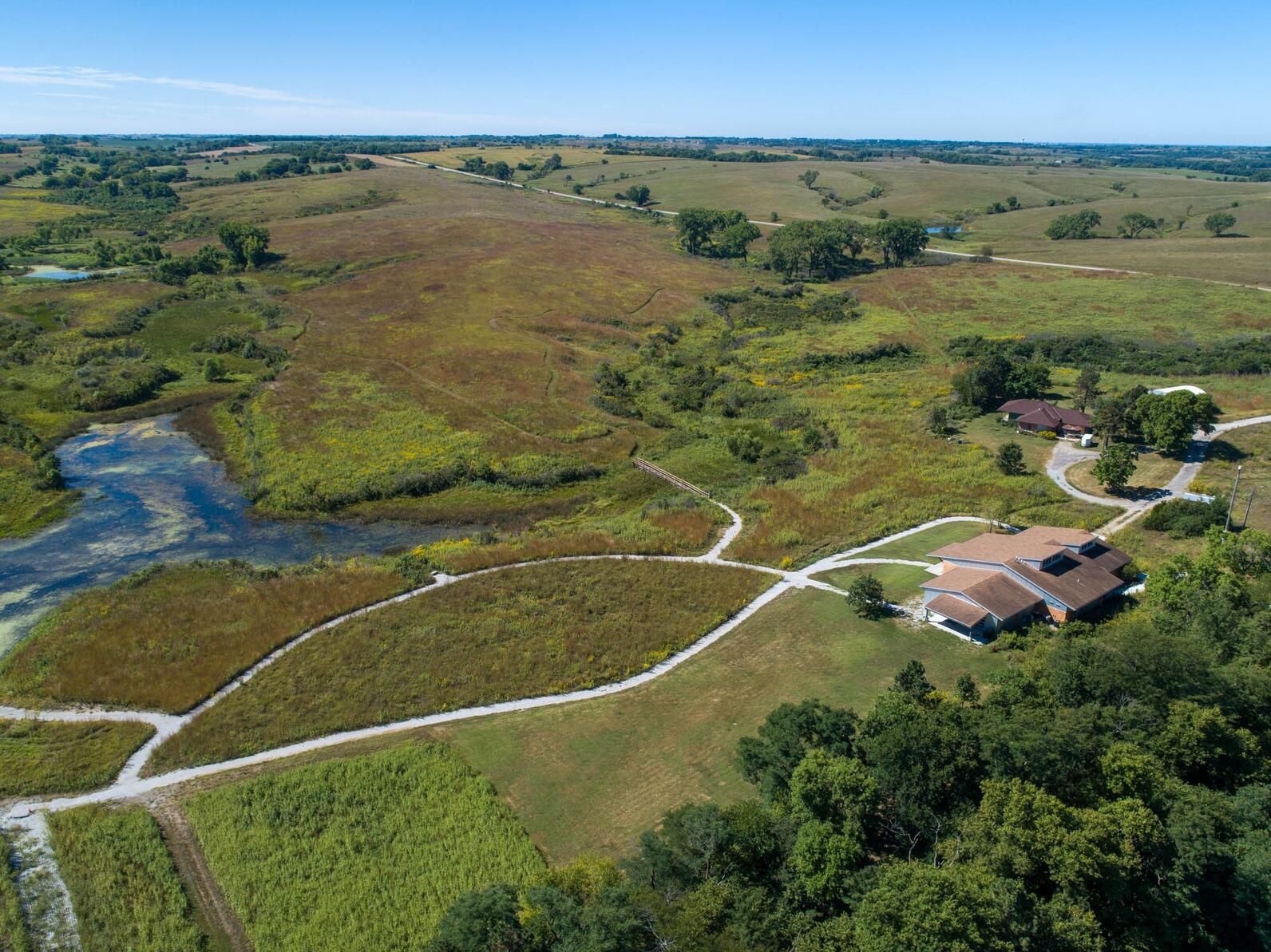 Over 235 species of birds have been seen. Our prairie is managed for grassland birds such as Henslow's sparrows, bobolinks, dickcissels, and grasshopper sparrows. Other notable species are red-headed woodpeckers, Bell's vireos, Sprague's pipits, and willow flycatchers. Mammals are mostly active outside of Center hours, but tracks and traces of coyotes, white-tailed deer, badgers, bobcats, and raccoons can be found.
Two places on our website detail how we manage our acres for birds. See this page that discusses tree and shrub removal, and learn about our use of prescribed burning here.
Yes, the trails are open sunrise to sunset, seven days a week throughout the year. No appointment is necessary. Trail maps are available for download from this website (Come Visit Us page). There is an outdoor bathroom available by the parking lot.
Only the trails around the visitor center are accessible. Specifically, the path from the parking lot to the visitor center, the trail north from the parking lot to our boundary line, the trail south from the visitor center to the footbridge, and the trail from the visitor center east to the Oregon Trail cutoff wagon ruts across the pond. All of the trails beyond these paths are not accessible.
Hunting and fishing are not permitted on the property. We recognize hunting and fishing can be appropriate habitat management tools, but they are not needed for wildlife management at our prairie.
Also, pets and bicycles are only allowed on the Prairie Corridor trail (see question below).
Dogs and bicycles are only allowed on the Prairie Corridor trail. This trail begins at the kiosk along the walkway from the parking lot to the visitor center, and extends north about 1/3 mile and ends at our north boundary.
For the safety of our breeding grassland birds and other wildlife, dogs and bicycles are not allowed on any other SCPAC trail.
Drones are allowed on our property only as part of research activities, and flights must be approved by and scheduled with staff.
Yes, Audubon Nebraska has recently joined with Audubon Dakotas to create Audubon Great Plains. Read more about this here.
How you can help, right now
Keep in Touch
Here's how you can keep in touch with all the activities and programs at Spring Creek Prairie Audubon Center